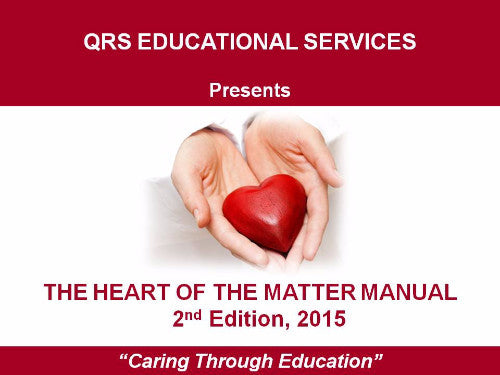 E-VERSION QRS Educational Manual - "The Heart of the Matter"
We are happy to present our on-line version, 2nd Edition of "The Heart of the Matter". The timing of our new hard copy edition was based on the publication of the International Liaison Committee on Resuscitation and the American Heart Association Emergency Cardiovascular Care Committee guidelines published in the fall of 2015. The "Heart of the Matter" first edition was developed in 2013 after 23 years of running educational courses throughout Canada. We have received tremendous positive feedback from our participants on the first edition with suggestions on how to make the second one even better. In this edition, you will continue to find our easy way to describe concepts and present topics that are sometimes difficult to understand.
Welcome to our on-line version,  2nd Edition of "The Heart of the Matter". Please send me an email with any comments, suggestions and feedback you may have on this new manual plus what you would like to see in any future material. Please visit our website at www.qrs-education.com for ongoing educational topics. If you would like to reach me, please contact me at darlene@QRSeducation.com.
Testimonials:
"I am a visual learner and without pictures, I would not retain as much. Thank you for putting together such a clear and easy to understand learning tool. I am going to pass this on to our Emergency Educator as I know she will be able to use this for training purposes". Oakville, ON.
"This book is amazing. I wish I had it a few months ago when I was trying to understand rhythm strips and treatment. Thank you for making such a challenging topic so easy to understand".  Ajax, ON.